Sushi delivery in Ternopil: advices from the Brand chef of Faine Misto Family Restaurants Vadim Timofeev.
View full menu of YOUNG restaurant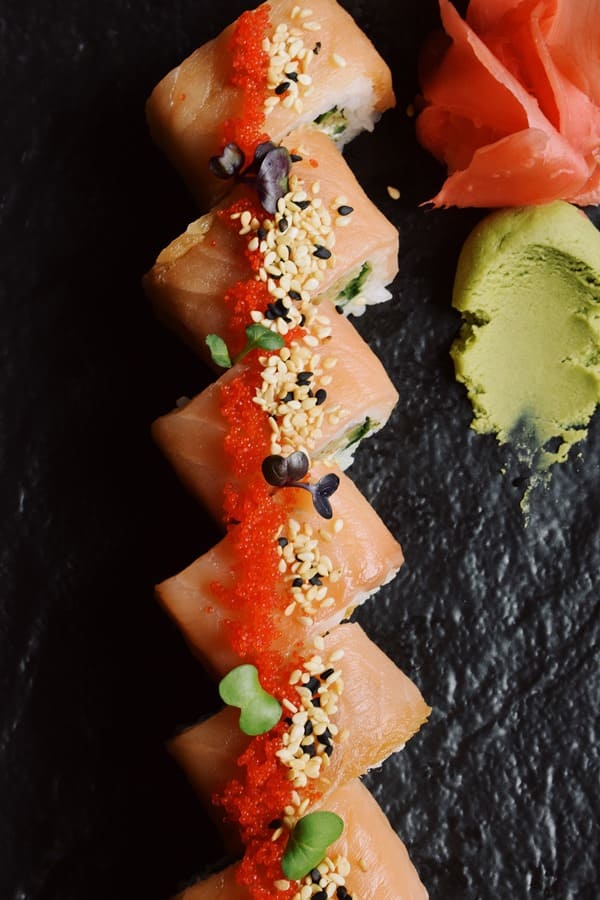 ---
Kunsei sushi-roll
Sushi delivery from YOUNG – a great opportunity to try Kunsei. Translated into the English this word means "smoked". Everyone knows what Philadelphia is – it's a lot of fish on top and Philadelphia cheese inside of the roll. And Kunsei is even cooler:
the main ingredient – smoked salmon;
Japanese Tamago omelet and cucumber inside of the roll;
on top – sesame seeds and Tobiko caviar.
YOUNG'S Kunsei has a very rich flavor. This is a great snack for beer and stronger drinks.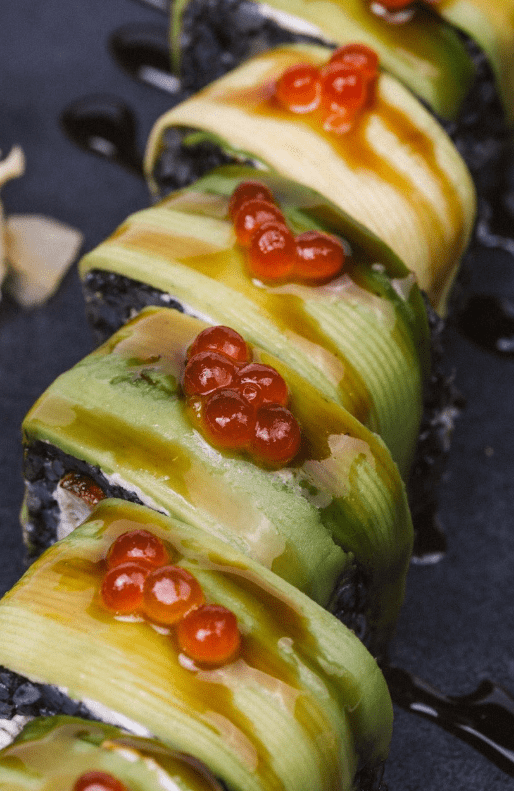 ---
Black samurai
What can be more authentic than a combination of samurai + Japan? Only samurai, wrapped in Black Kimono! As our sushi Young:
Rice is painted with squid ink, the eel and salmon inside, which perfectly fits the gentle cream cheese;
roll is wrapped with thin slices of avocado at the top of it, decorated with caviar and sprinkled with spicy sauce unagi;
the special secret of that roll – we added a pear that slightly obscures the usual combination of ingredients.
You can order these the most delicious rolls in Ternopil with delivery now! We have free sushi delivery in Ternopil from the YOUNG restaurant!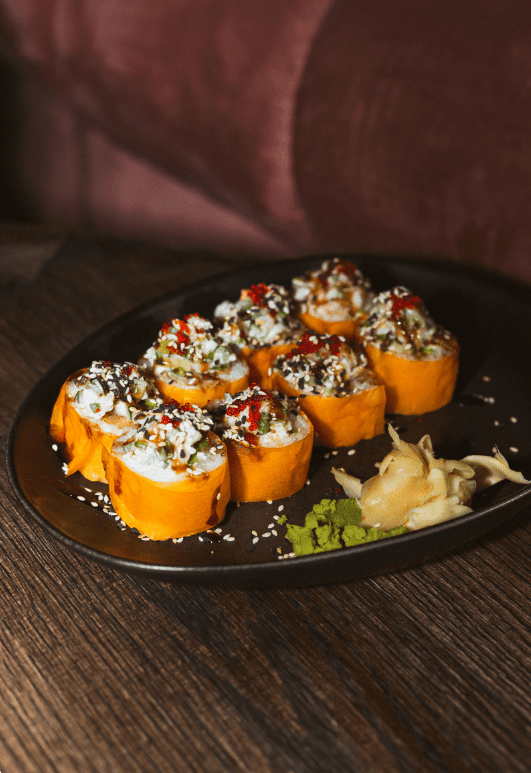 ---
NEW Roll with grilled salmon
Meet new item from the restaurant of pan-asian cuisine YOUNG – special sushi in Ternopil with delivery, in which there is an interesting alternative to nori:
Thin soy wrapper instead of nori.
Salmon cooked in tempura + unagi.
The perfect tandem of shrimp, cucumber, rice, avocado and cream cheese. YOUNG sushi – always a flawless combination!
The last strokes of the impeccable roll - sesame, tobico and mayonnaise sauce.
Taste a new meal now, because sushi delivery from Faine workes daily. We deliver in and outside the city.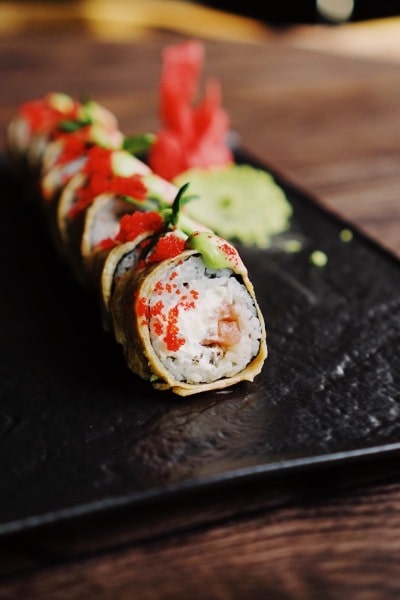 ---
Takeshi
YOUNG sushi bar serves classic Pan-Asian cuisine. Takeshi's series of roles has been recognized by experts as a masterpiece of culinary art. We leave the recipe unchanged and our Chef himself has known it for more than 10 years.
This is the first roll in which Umami (the fifth taste in oriental dishes) is occurred by Shiitake mushrooms, prepared according to a special recipe. The uniqueness of the dish is that the roll is fried in a Japanese omelet Tamago-Yaki (or just Tamago). Due to this the required temperature of perfectly selected ingredients is maintained and the taste of each ingredient is revealed as much as possible.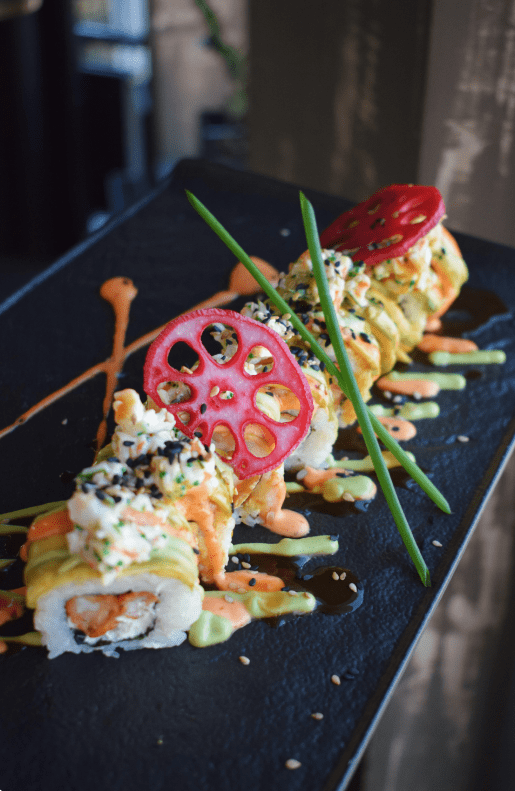 ---
Ebi Harumaki
If you want to taste something delicious, choose YOUNG sushi in Ternopil! Our roll Ebi Harumaki combines everything you love most:
Shrimps tempura and cream cheese.
Avocado + tartar with boiled shrimp in special sauce.
These are trendy sushi in Ternopil that have a special feed and incomparable taste. A gentle and juicy roll perfectly tastes with different drinks and will become a wonderful addition to your dinner. We deliver free from the YOUNG restaurant!
You can deliver sushi in Ternopil throughout the website and our official app Faine Misto. We accept orders until 22:20!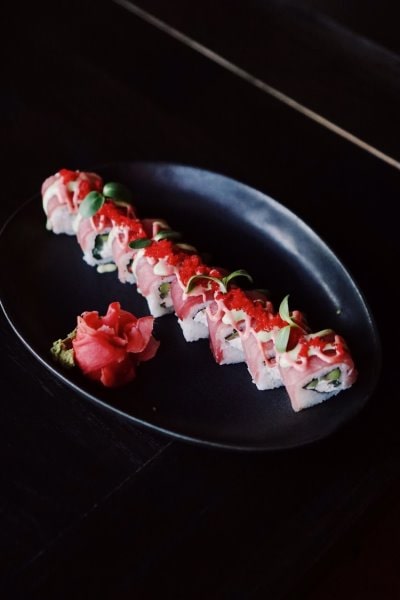 ---
Tuna roll
Sushi delivery from YOUNG is a great opportunity to enjoy delicious meals. Tuna - a special one. Only true gourmets will be able to appreciate this flavor. We use an exclusive version from the best chefs in Tokyo. Fresh tuna is marinated according to an ancient Japanese recipe. The classic combination of fish with cucumber, avocado, cream cheese and caviar creates a perfect taste.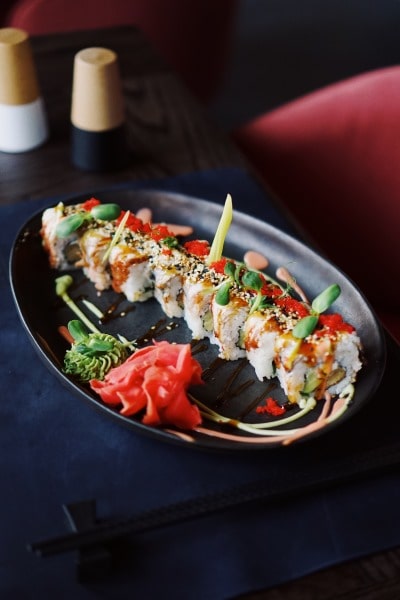 ---
Unagi (eel roll)
Our bar is visited by guests who love eel and enjoy all sushi rolls with it. This is a special fish with a unique taste. So to have a hit position on the menu covered with eel like a shiny wrapper - a must have. And for our guests to relax and try Unagi with delicious drinks in the Young Lounge - a must eat. This roll easily defeats all Black and Golden Dragons. Unagi is a perfect combination of flavors, worthy of the attention of the most demanding gourmets.
---
Sake (Salmon roll)
Creating Party Restaurant YOUNG menu we sought to move away from the usual and typical names: California, Philadelphia, Dragon. These roles are prepared in most establishments and the recipes do not differ from each other. We offer exclusive combinations of flavors. Sake Roll is a unique mix of Philadelphia, Red Dragon and California. Take the opportunity to order sushi in Ternopil and enjoy the perfect taste. Sake is a real leader! And you should try it.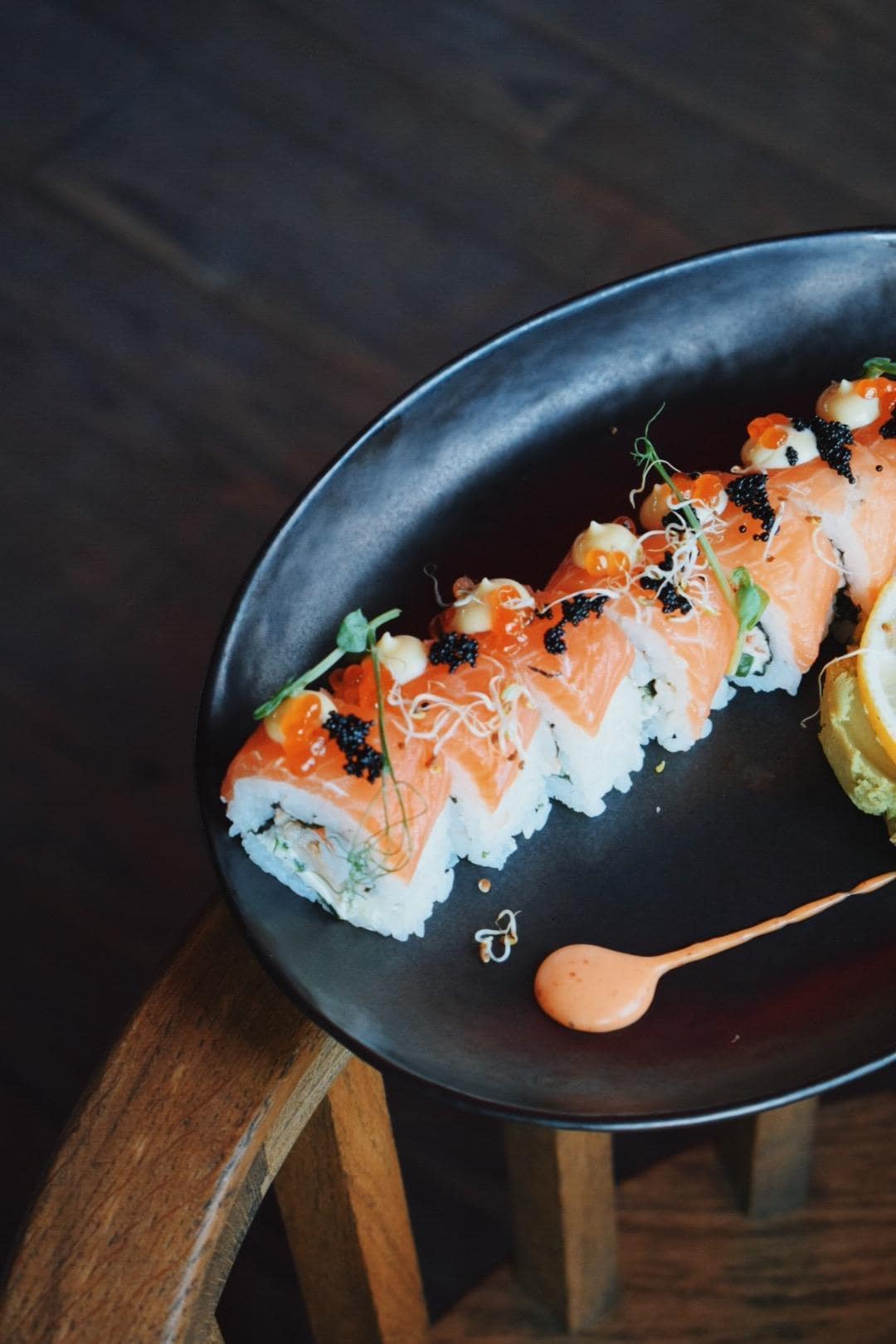 ---
Philadelphia
Philadelphia roll is one of the most popular in the world. The recipe of this tender and tasty roll may differ in different places but the ingredients are necessarily salmon and cream cheese.
You can find Philadelphia in YOUNG restaurant as well. Here we prepared it with rice, nori, cream cheese, tiger shrimps, eel, lightly salted salmon, cucumber, mushrooms, salmon caviar, tobiko caviar and Japanese mayonnaise.
YOUNG - is the best sushi in Ternopil and you can order them for delivery.
To order sushi in Ternopil with delivery from YOUNG you only need to place your order on 250 UAH.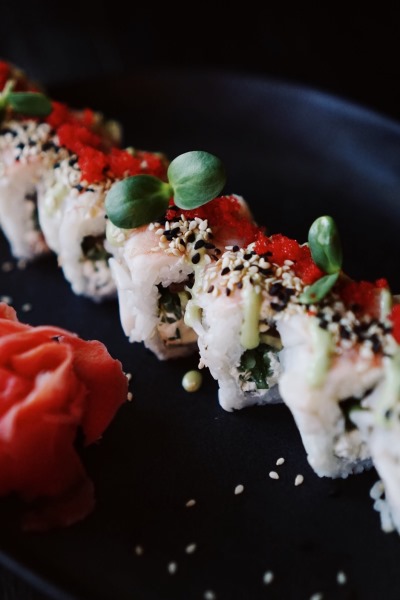 ---
Ebi
It's hard to find a person who doesn't like shrimps. But Ebi roll with tiger shrimps from YOUNG is a higher level of satisfaction. All products perfectly complement each other:
avocado hid in a soft rice as if in a jungle;
fresh cucumber and salmon;
on top – shrimps and caviar as a tiger;
a little bit of spicy sauces and fried sesame.
Do you want to surprise your guests with a delicious dish? Ebi - perfect sushi for a party or a romantic date.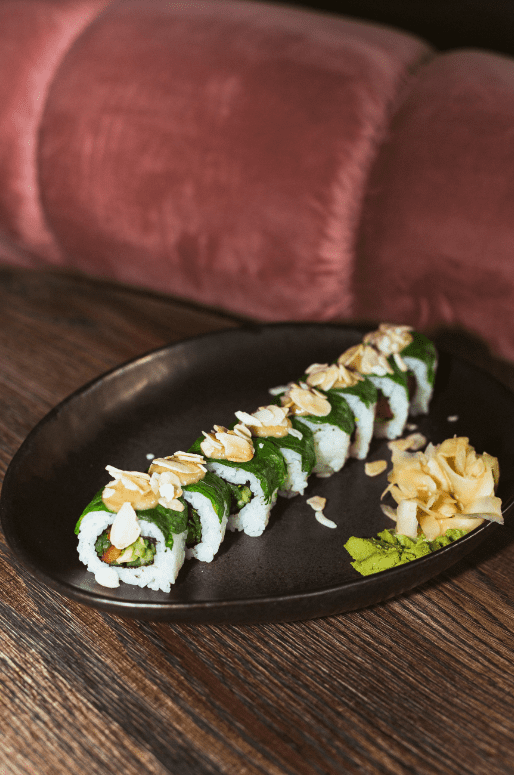 ---
NEW Vegetable roll
The restaurant of pan-asian cuisine YOUNG takes care of those who don't like seafood. Meet updated vegetable sushi from Young! You will be pleasantly surprised by the unexpected combination of ingredients:
Cucumber, avocado, bell pepper and spinach – cool mix for those who are concerned about their shape.
In Ternopil city you can taste sushi with nuts and almond flakes only here!
Nori envelops the perfect rice from the inside, and outside the roll is being embraced by Chuka.
Original spring rolls in Ternopil can be ordered on the app or on our website.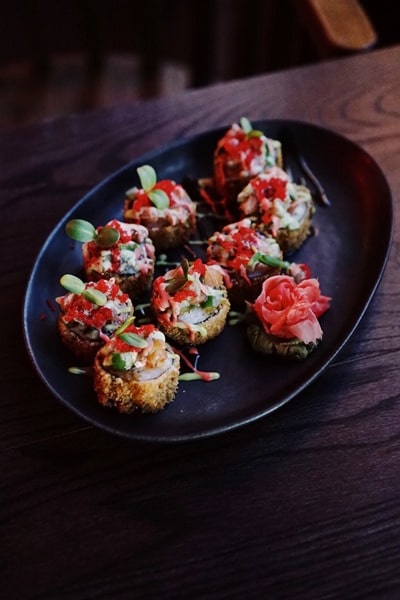 ---
Hot Panko sushi rolls.
YOUNG'S sushi and rolls delivery is an opportunity to taste the author's dishes from the chef. Panko is a hot roll and without exaggeration a hit on our menu. It is prepared according to a unique recipe which combines:
two species of fish - lightly salted salmon and marinated tuna;
shrimps;
classic cucumber, avocado, tender cream cheese.
Panko sushi from YOUNG is breaded in crispy breadcrumbs. Add the author's sauces and garnish with caviar. Perfect - it is big, juicy and crunchy! You should order it!
Option from YOUNG'S chef is the best!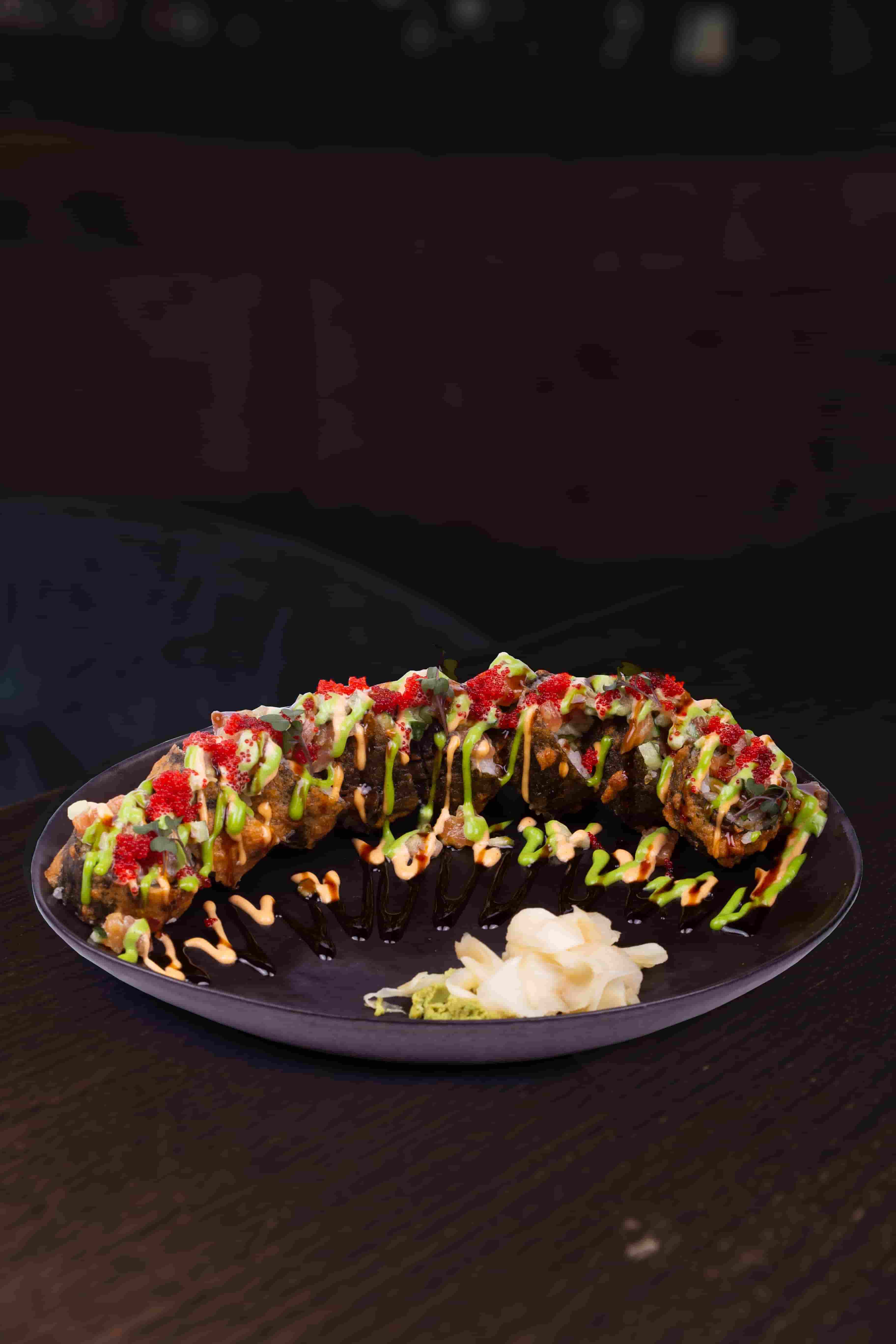 ---
Imperial roll.
YOUNG'S menu in Ternopil has large various exclusive rolls prepared according to the author's recipes. We have an incredibly tasty and great imperial roll. It includes rice, cream cheese, eel, tempura, cucumber, avocado, unagi, kimchi, Japanese mayonnaise, tobiko caviar.
This and other rolls and sushi sets in the YOUNG restaurant can be delivered to your home or straight to the office.
Sushi delivery in Ternopil from YOUNG is fast, convenient and tasty.
To order sushi in Ternopil you need to place your order on 250 UAH. Delivery in the city is 60 UAH. To order sushi outside the city, the minimum check amount must be 350 UAH, and the cost of delivery will be 80 UAH. Free delivery - from 1500 UAH.