Confectionery, pastries and fresh bread │ With love from Faine Misto Bakery
Are you convinced that fresh bread with live sourdough and confectionery with a cup of aromatic coffee in the morning - the best way to recharge your batteries for the whole day? Then you should definitely visit the confectionery Faine Misto Family Restaurants!
Fresh bread with live sourdough - all about our cooking technology and range
Until recently, no bakery in Ternopil could offer Ternopil residents and guests real fresh bread with live sourdough but Faine Misto through months of experiments and dozens of recipes managed to form their own wide range of confectionery and provide wheat and rye-wheat sourdough to buy in Ternopil for the first time.
Sourdough bread is a product made according to ancient recipes: sourdough is grown from flour and water, i.e. fermented dough, which is added to ordinary dough when kneading bread in the morning, form a homogeneous mixture several times, put in the refrigerator overnight where it will grow slowly until morning. In this way, virtually unleavened bread is being formed in which traditional yeast does not need to be added because sourdough is already a natural yeast of wild crops. Yeast bread is much longer and more difficult to prepare because it is fermented but fermented sourdough bread is easier to digest and metabolize by the human body without straining the stomach and is stored much longer than usual due to the lack of store-bought yeast.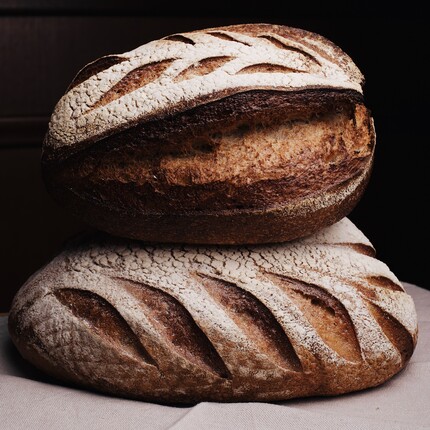 To make unleavened bread Faine Misto Family Restaurants uses only:
fresh water;
salt;
flour of the highest quality of four or five types, different degrees of processing and nutritional properties, each of them helps the dough absorb more moisture, makes bread lush and light, makes the dough more elastic or enhances the taste so that sourdough bread becomes just as delicious as in childhood!
The range of home-made confectionery in the Faine Misto Family Restaurants bakery is quite large and constantly growing. In addition, you can buy confectionery and buy bread both directly in the establishments of our restaurants and order for delivery in Ternopil or outside the city:
rye or wheat bread with sourdough, which we are especially proud of;
classic baguettes with poppy, sesame seeds, oatmeal or onion with malt;
Turkish bagels with sesame or poppy seeds;
croissants presented in the menu of our various establishments;
dessert frangipane;
sandwiches;
buns for borscht or soup in three establishments.
We bake all confectionery products in the morning every day for all establishments of our network, using only quality ingredients so you can be sure of the quality and freshness of our baguettes, croissants, bagels and bread!
Why should you try our own own-made eclairs?
Faine Misto Family Restaurants is a wide-ranging chain of establishments that also specializes in the production of sweets: we bake cakes to order, make candies, macarons and offer to buy eclairs for any of your holiday events! Cakes and other sweets can also be baked for catering, a buffet and an outdoor ceremony organized at the highest level by the Faine Misto team of professionals or for delivery anywhere in the city.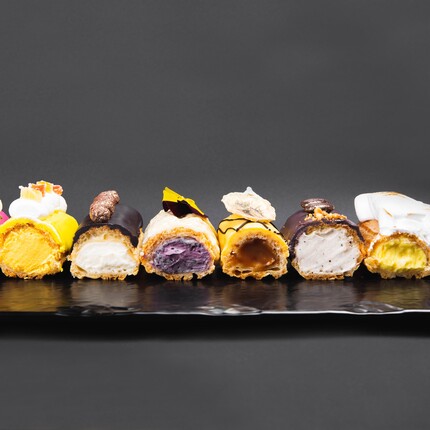 You can order eclairs Ternopil in boxes of six units with a minimum order of three boxes daily until 21:20 of the following varieties:
classic custard and chocolate;
lemon;
pistachio;
banana-caramel;
blueberry;
sneakers;
assorted or favorite taste of your choice;
Faine Misto also produces sweet and savory types of macarons worth 25 UAH:
with salmon;
with truffle;
with raspberries and cherries;
with coffee;
with lavender;
with a rose;
with pistachio.
If you want to impress your loved one and dear person with an original gift, then buy handmade candies "Valentine" in the form of a heart for only 95 UAH! 9 incredibly delicious chocolates in individual packaging with nutella filling and almonds are sure to please your partner!
Cakes to order: unforgettable taste with exquisite design
Custom cakes Ternopil from the Faine Misto Family Restaurants - great choice for a fun holiday that will be remembered by you and your guests forever! Our chefs are real magicians who will make any cakes to order according to your wishes!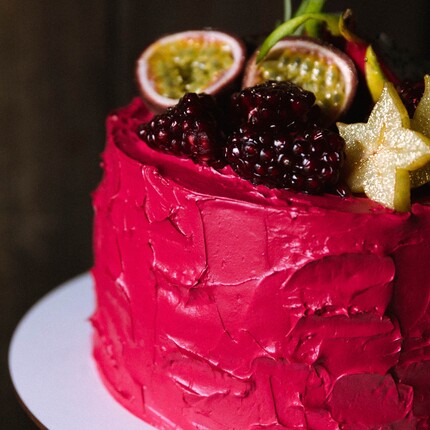 The price of a cake to order depends on its variety and decor:
Raspberry-pistachio - 420 UAH/kg (from 2 kg);
Napoleon - 350 UAH/kg (from 2 kg);
Cheesecake berry - 400 UAH/kg (from 3 kg);
Salted Caramel Cheesecake - UAH 590/1.5 kg;
Esterházy - 380 UAH/kg (from 2 kg);
Sneakers - 380 UAH/kg (from 2 kg);
Grillage cake - 380 UAH/kg (from 2 kg);
San Sebastian cheesecake (without sugar and gluten) - 580 UAH/kg.
All available cakes to order are presented in the menu of the Faine Misto Family Restaurants on the website fainemisto.com with the current design that we offer. In addition, you can buy cakes with individual decor, which will be paid extra from 500 UAH - we will fulfill any of your wishes!
To choose cakes to order Ternopil you just need to call the numbers listed in the header of the site fainemisto.com at least two days before the desired time to receive it to discuss with our administrators the necessary decor and if necessary make your own adjustments to the classic design or composition of the cake.
Faine Misto Family Restaurants - Ternopil Confectionery, which offers the most delicious confectionery in the city with attractive prices, accessible to everyone!